Photo by Chantal Overton (@OhhMyOnlineNet).
One quarter of the way through the 2012 season, the Rams are already ahead of schedule. We were supposed to be the young team that learned how to fight, but would have a hard time closing games and putting wins in the standings. We were supposed to be in the "rebuilding" year – an NFL euphemism for "acceptable losing season, as long as the writers have something positive to write about."
The winning wasn't supposed to come for another year, not until the next round of blue-chip draft picks came in. But don't tell that to the 2012 draft class, who are busily scattering chips – blue, red and otherwise – across the table like a bachelor in Vegas.
While there are a lot of factors in play, with coaching at the very head of the list, we can't ignore the impact that this year's rookies are making on the field, and on the character of the youngest team in the league. Here is a rundown of each rookie's contribution to the season so far, and our expectations for the rest of 2012.
DT Michael Brockers: untapped power source
| | | | | |
| --- | --- | --- | --- | --- |
| Games played: 1 | Snaps: 46 | Tackles: 0 | QB Pressures: 1 | High ankle sprains: 1 |
Les Snead's first pick as GM of the Rams was a monster in the middle that would transform the Rams' run defense, open lanes for the linebackers, and free Robert Quinn from double teams to wreak havoc on quarterbacks. The plan: get one big-time player that makes three or four other players better around him.
So far, that plan has been stuck in blueprint phase. Brockers was waylaid by a dirty (but all too common) low block that rolled up on his ankle in the fourth preseason game against the Ravens' scrubs. He finally made his return in Week 4, but did not show the same penetrating power that we saw in the preseason.
Impact: Negligible so far.
Prognosis: Week 5 will offer a barometer. High ankle sprains are difficult to recover from, and his leg will likely not be 100% all year. Can he still become a force? A matchup against Arizona's weakened line may tell.
WR Brian Quick: moving the needle
| | | | | |
| --- | --- | --- | --- | --- |
| Games played: 3 | Snaps: 19 | Targets / Catches: 4 / 1 | Yards: 19 | Comparisons to All-pro WRs: 2 |
http://youtube.com/watch?v=1ncGDMnybQg
We all knew Brian Quick was going to be a project. That doesn't mean that his slow progress hasn't caused the worry meter to jump a little from week to week, particularly when he was found on the bench in Week 3. However, the big WR was called upon against the super-sized and uber-talented Seattle secondary, hands-down the best starting CB-Safety group in the league. That is a very nice vote of confidence from Ray Sherman and the coaching staff, and Quick responded with his first NFL catch on a crucial 3rd-and-14.
Quick ran a nice route and took an NFL hit for a 19-yard catch that set up a Rams touchdown. He is still learning to play to his size, and to master the playbook, but he has clear playmaking ability.
Impact: Minimal impact on the stat sheet so far, but already earning critical red zone snaps and contributed to a win.
Prognosis: It's tempting to compare him to other big rookie WRs in this draft class, but the true comparison is Quick vs his potential. He should continue to earn snaps, and I like him to have 2-3 "breakout" games this season where he gets to shine.
Janoris Jenkins: instant DROY candidate
| | | | | | |
| --- | --- | --- | --- | --- | --- |
| Games played: 4 | Snaps: 261 | Tackles: 20 | Interceptions: 1 | Passes Defended: 4 | Swagger: off the charts |
Janoris Jenkins clearly has first-round talent that Jeff Fisher acquired for a second-round price. But pretty soon we'll stop talking about where he was drafted and start talking about how he compares to the elites at his position.
He still makes rookie mistakes, such as the time he bit on a fake end around and allowed Leonard Hankerson to get behind him for a big touchdown. But he also shows fantastic instincts and hands, as on his "spidey-sense" interception of Matt Stafford in the end zone to take a Lions touchdown off the board.
That route was designed to turn the CB's back to the QB and give him a no-brainer throw, but Jenkins instinctively knew when and where to find the ball. (Watch video on NFL.com)
Impact: Full-time starter at CB opposite Cortland Finnegan in the Rams' rebuilt secondary.
Prognosis: The sky is the limit.
Isaiah Pead: sitting on the shelf
| | | | |
| --- | --- | --- | --- |
| Games played: 3 | Snaps: 6 | Touches: 1 | Hands wrung by worried fans: 2 |
Isaiah Pead's first impression on me came on a swing pass out of the backfield in Rams Camp. He steamrolled twenty-plus yards up the near sideline and lowered his shoulder to plow through Janoris Jenkins' half-hearted tackle attempt. Immediately, fans knew we had a football player on our hands.
Eight weeks later, it's fair to wonder where that player is. Pead lost the primary backup job to Daryl Richardson (more on him in a moment) after spending too much time dancing in the backfield. And crucially, his pass-blocking makes him a liability on passing downs, where he could potentially do the most damage in space.
Impact: None so far.
Prognosis: He has a chance to make a dent on special teams, but likely needs another offseason in the weight room to improve his pass-blocking before he becomes a regular contributor.
Trumaine Johnson: seizing his opportunity
| | | | | |
| --- | --- | --- | --- | --- |
| Games played: 4 | Snaps: 16 | Tackles: 0 | Interceptions: 1 | "Truuuuuuuuuu!" sounds like: "Bruuuuuuuuuuce!" |
There has not been much need for a fourth CB on this team in the first four weeks, getting the bulk of his work (all of 10 snaps) against the spread-happy Lions in week 1. But he has been thrown on twice so far, and has one pass incomplete and one jarring hit on Doug Baldwin that turned into an interception. (Watch video on NFL.com)
Tru's progress has taken the opposite trajectory of instant talents like Jenkins and Pead. He started camp slowly and doesn't have Jenkins' fluidity, but has steadily progressed and worked his way up the depth chart as he acclimates to NFL game speed. Now, there is no doubt that he belongs on this roster.
Impact: Forced a key turnover in a divisional win.
Prognosis: His playing time will be purely situational this year, but he has shown that he is not a liability. His biggest test will likely come against the Green Bay Packers in Week 7.
Chris Givens: long-distance connection
| | | | |
| --- | --- | --- | --- |
| Games: 4 | Snaps: 98 | Catches/targets of 20+ yards: 1/4 | Seat usage while watching: 0% |
At least once per game, Sam Bradford has dropped back and let fly on a downfield route to the rookie speedster from Wake Forest. Until Week 4, each of these attempts became an opportunity for Rams fans to gnash their teeth and wail about Bradford's timing and deep ball accuracy.
But like a race car engine, the mechanics between the quarterback and a downfield speedster have to be far more finely-tuned than your daily-driver short passes and intermediate routes. Holding the ball a fraction of a second too long, or a hint of flutter in the ball, or a speck of dirt in the line can make the difference between a successful play and a failed one.
In week four, Bradford and Givens finally connected on a perfect throw, and the downfield threat had been officially established. (Watch video on NFL.com)
Impact: Has not contributed to a scoring drive yet, but that's only a matter of time.
Prognosis: Givens' downfield contributions will be tied to how much time Bradford has, which is tied to how well his line can pass-block, which is tied to how successfully Bradford can play-fake, which is tied to the Rams' ability to run the ball.
Rokevious Watkins: girth, interrupted
| | | | | |
| --- | --- | --- | --- | --- |
| Games: 1 | Snaps: 37 | QB hits & sacks allowed: 2 | High ankle sprains: 1 | Twitter hashtags inspired: 1 |
The Rokevious Watkins era did not get off to an auspicious start, as he showed up to camp in less-than-ideal shape. He spent the first week trying to pass his conditioning test before making a belated push for playing time. He showed immediate promise as a run-blocker, and I was not afraid to call for him to be the starter at left guard.
However, in his lone half of work in week 1, he was flat-out abused by the Lions' Corey Williams in pass protection. An ankle sprain was mentioned in passing after the game, which then somehow evolved into a season-ending malady.
Impact: He made a ripple, but not a splash.
Prognosis: Likely faces an uphill battle for a roster spot in 2013. Expect the Rams to draft heavily on the OL next year.
Greg Zuerlein: employee of the month
| | | | | | |
| --- | --- | --- | --- | --- | --- |
| Games played: 4td> | Field goals att/made: 12/12 | FG 40-49: 5/5 | FG 50-59: 2/2 | FG 60+: 1/1 | Official nicknames: 3 |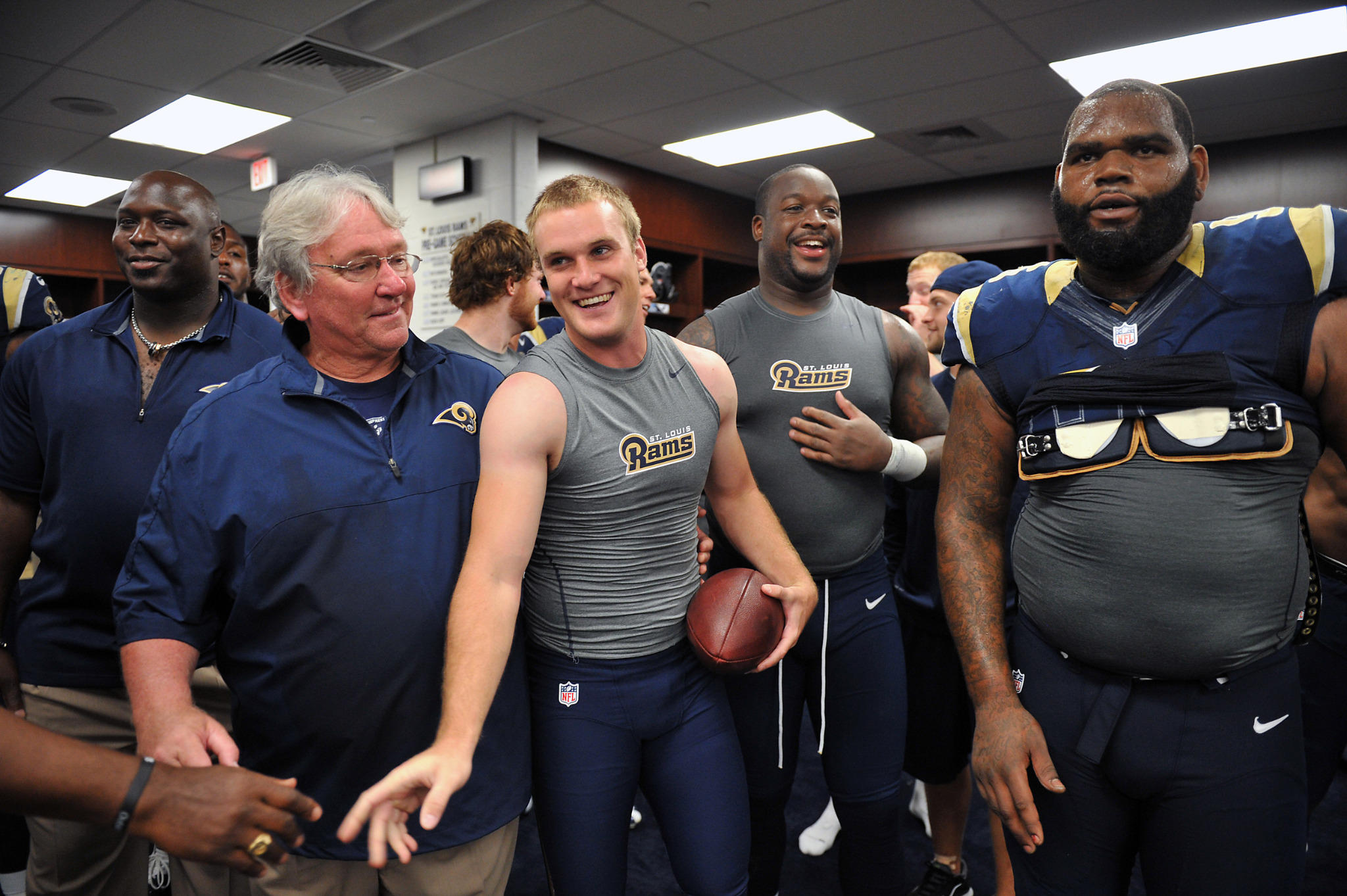 Jeff Fisher emphasizes competition at every turn. But no one had less of a chance of landing a job with the Rams than Garrett Lindholm, the poor sap who had to compete with the rocket-legged rookie from Missouri Western. In training camp, Zuerlein made a habit of targeting the video man at the top of the 60-foot scaffolding behind the goal posts – and put more than a few in his lap.
Enter the preseason, where the player known alternately as Greg the Leg / Young Geezy / Legatron kept getting run out on longer and longer field goal tries, until he finally missed from 63. He hit the crossbar. While dragging his foot on the turf.
Now, Jeff Fisher has no fear of calling his name anywhere north of the 50 yard line. And young Zuerlein is already making a name for himself nationally, nominated by Peter King for special teams player of the season so far after dropping four bombs on Seattle to win game four. Although for the life of him, he can't figure out what the big deal is.
"I don't really get nervous. There's no reason to get worked up about kicking a football."
Prognosis: One day, Zuerlein will miss a kick. It may even cost his team a win. But for right now, he's the Roy Hobbs of field goal kickers, and he can do no wrong.
Daryl Richardson: surprise contributor
| | | | | |
| --- | --- | --- | --- | --- |
| Games played: 4 | Snaps: 79 | Touches: 30 | Yards per play: 5.7 | Jobs stolen: 1 |
The Rams finally drafted a legitimate #2 running back behind Steven Jackson. But they may not have known at the time that it would be Daryl Richardson, the kid from Abilene Christian that the Rams used a compensatory seventh-round-pick on.
Richardson didn't open eyes right away, at least among fans at camp, while Isaiah Pead drew the early "oohs" and "aahs." But the more practices we watched, the more we noticed that Richardson appeared to be able to do everything that Pead could do, and a few that he couldn't. Noticeably, the pocket-sized back is as tough as a tree stump in pass protection, and may have more reliable hands as a pass-catcher as well.
What won him the job, though, is his decisiveness with the football. He is more immediate to the hole than either Pead or the rookie-year Steven Jackson, which means that he has very few negative plays. And he has the speed to turn a well-blocked play into a breakout run.
Impact: Played a big part of the Rams' upset win over the Redskins in Week 2, and continues to hold down the primary backup job.
Prognosis: With Steven Jackson's speed disappearing, Richardson is in line for more work as the season progresses. If he works on his ball security, he may potentially take over as starter some day.
Johnny Hekker: the secret weapon
| | | | | | |
| --- | --- | --- | --- | --- | --- |
| Games played: 4 | Punts: 18 | Net punt average: 39.4 yards (16th) | Coffin kicks: 4 | Touchbacks: 2 | Passer rating: 118.8 |
Johnny Hekker's name will be immortalized as the answer to a Seattle Seahawks trivial question – "Who threw the game-winning touchdown pass against us in Week 4?" That's a nice bit of infamy for an undrafted rookie in his first month on the job.
Hekker is special teams coach John Fassel's find, as the Rams cut Donnie Jones and didn't bother to draft his replacement, figuring (rightly) that they could find a guy in free agency. Hekker, a former quarterback in high school, was a perfect find. His most important skill is his directional kicking, the ability to kick away from returners while getting good field position.
Impact: Well, he has that game-winning touchdown pass under his belt, right? He also had a huge 66-yard field-flipping bomb that helped the Rams hold on against Washington in Week 2.
Prognosis: His directional kicking will be put to the test in Week 5 against Patrick Peterson, who burned the Rams multiple times in two close losses last year.
Depth Players: Matt Conrath, Mike McNeill, Matt Daniels, Austin Davis, Terrance Ganaway, Rodney McLeod
Combined, these players do not have a lot of time on the field, but each flashed ability in the preseason – in the case of Ganaway, in the New York Jets' preseason. Fans have already latched on to local kid Mike McNeill at tight end, and Austin Davis as the Rams' 3rd-string QB.
In Davis' case, the fact that they cut Kellen Clemens to ensure the rookie's roster spot in week 1 says as much as you need to know. (Clemens was later re-signed, and would likely the the first man called upon if Bradford goes down. But if Bradford gives way to a backup for garbage-time snaps, Davis might be the guy to get work.)
The only draft pick that the Rams cut was sixth-round choice Aaron Brown, the undersized linebacker out of Hawaii who is currently on our practice squad.
It's tempting to look ahead to 2013's draft, and imagine how the bounty of picks acquired from the Redskins will continue to fortify the roster and help Jeff Fisher futher mold this team in his image. From top to bottom though, even considering some of the players still fighting for playing time, the draft class of 2012 is already making a huge impact on this team, and the standings.