The third round of the NFL Draft Wizard experts mock opened up with a run on running backs, as these mocks often do. The third and fourth rounds of the draft have been a gold mine for NFL teams looking to bolster their backfield rotation, producing DeMarco Murray, Roy Helu Jr, Jamaal Charles, Kevin Smith, Shonn Greene, Michael Bush and Le'Ron McClain just in the last five years. Going back further, Frank Gore, Brandon Jacobs and Darren Sproles were all bargain backs drafted in this pack of the draft.
As gold mines go, though, the Rams have never struck pay dirt in this one. They're rarely even dug in that direction. In fact, the team has only drafted four runners from these middle rounds in the last 30 years. The last? The eminently forgettable Lamar Gordon in 2002.
Billy Devaney was just as guilty as Jay Zygmunt and the like for ignoring this fertile ground in search of a backup or even a complement to Steven Jackson, making do with seventh round picks and undrafted players before turning to free agency. Maybe now we can fix that.
Holding the second pick of the third round, the Rams would be in a perfect position to start a run on this year's crop of runners. In this mock draft, we landed Senior Bowl MVP Isaiah Pead as a runner that can bang between the tackles and catch passes, providing a younger and healthier (but less pass-block-worthy) version of Cadillac Williams. But the group of available runners that can make an impact hardly ends with Pead.
Here's an analysis of this year's crop:
The "lightning in a bottle" backs
LaMichael James, Oregon. 5'8″, 194 lbs. 4.37 40 (unofficial). James is the unofficial headliner among luxury running back picks, the back you buy not because you need him, but because you can. With his small stature and history of minor injuries in college, he isn't going to be a 15-20 carry player. He might not even sniff 10 carries most games. But with each one of his touches, he possesses the speed and make-you-miss ability to take the ball to the house.
That ability is less about shake-and-bake than pure motor, says Allen Dumonjic in a B/R scouting report:
I don't see great lateral agility from James, instead I see a straight-line runner. He does not possess the ability to make quick and sharp cuts in my opinion.

The reason he can fake out defenders is because of his use of head and shoulders. He does a good job of selling the defender on going in one direction before snapping his head and shoulders back to run in another direction.

While he does not break the long run often on his own, he does have the ability to outrun tacklers when he gets to the second level because of his quality acceleration and his straight-line speed.
Chris Rainey, Florida. 5'8″, 180 lbs. 4.32 40 (unofficial). Take the LaMichael James scouting report and double it. Rainey is a shade smaller and a hair faster, and no less fragile than the Oregon runner. But for pure "what the hell did I just see," you might not find a better player in the draft.
Rainey has the added bonus of contributing on kick returns, and caught nearly as many passes as he had runs. He could excel in small doses, like 2010 Danny Woodhead. Or, he could disappear completely, like 2011 Danny Woodhead.
Ronnie Hillman, San Diego State. 5'8″, 200 lbs, 4.45 40 (official). Hillman offers production that few other backs can touch, with more than 3,200 rushing yards and 36 touchdowns over the past two seasons, breaking Marshall Faulk's school record for freshman in the process. That production will be discounted against lightweight competition, but his durability and pure play-making ability (multiple 90+ yard scoring runs) provide reason enough for teams to take a closer look.
However, unlike Faulk, Hillman is nearly useless in pass blocking. If he's on the field on third downs, it's as a weapon, not as protection. Also unlike Faulk, Hillman has yet to come up big in a big game, totaling 118 yards in three games against TCU, Boise State, and Louisiana-Lafayette (in the 2011 New Orleans Bowl).
The two-down backs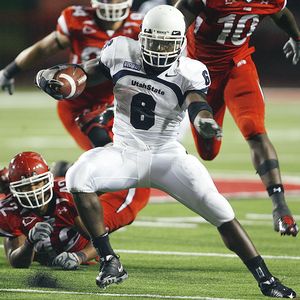 Robert Turbin, Utah State. 5'9″, 215 lbs. 4.5 40 (official). Turbin is a strong inside runner with crazy stats against small conference competition. He is a short-yardage back and reliable gainer on first and second downs, helping to set up those makeable third downs, and has hands soft enough to catch short passes out of the backfield. Yes, I'm pretty much describing Pat Shurmur's new best friend. However, there are almost no scouting notes on his pass-blocking, which leads me to believe he was rarely used in this role.
Ryan McCrystal neatly summarizes pre-draft attitude toward Turbin in his DraftAce.com scouting report:
Turbin is a tough prospect to judge. He lacks the measurables of an elite prospect, but it's impossible to ignore his production on the field (1517 yards, 19 TDs). However, he also was rarely tested against any of the nation's top defenses. He's definitely worth taking a flier on the mid rounds in hopes of developing him for the future.
Bernard Pierce, Temple. 6'1″, 210 lbs. 4.49 40 (official). Pierce is described as a smooth, patient runner with excellent power for his frame, but not a game-breaker on any particular front. Also a player who needs improvement in the passing game, both as a receiver and a blocker. However, his long-limbed grace makes him one of the more astheticly pleasing runners in the group. You know, for what that's worth.
The potential diamonds in the rough
Chris Polk, Washington. 5'10", 210 lbs, 4.46 40 (official). Somewhere, someone will argue "Chris Polk, third round back? No way! He's a second-rounder for sure!" For those critics, pencil in Lamar Miller or Doug Martin in this space instead. If recent draft history is any guide, one or more of those three will drop. Polk is the one getting tagged with "the next Arian Foster," though.
At least, that's what Matt Miller says in his B/R scouting report:
Pass catching: "He enters the league ready to take on defenders and then release to the flats. In four games I didn't see Polk drop a catch-able pass. He shows soft hands and the patience to look the ball in before turning up field."

Scheme fit: "Polk flashes when asked to find openings and make a cut. His ability to find a seam makes him an ideal fit for a one-cut offense like the Denver Broncos."

The gamble: "As he runs now, Polk gets vertical too soon and will be susceptible to big hits to his midsection. This is correctable, though. Part of scouting is taking what a player does poorly and deciding, 'can we fix this?' With Polk's pad height, coaches can fix it."
Isaiah Pead, Cincinnati. 5'10", 193 lbs, 4.42 40 (official). Though he doesn't have Steven Jackson's monster truck size, Pead's contact-friendly style of running and open field instincts make him an almost perfect understudy to the Rams running back. While the Mardy Gilyard post-draft saga might scare off some Rams fans from ever drafting another Cincinnati skill player, Pead would make an excellent candidate.
Raw notes from Rotoworld's Josh Norris offer an enticing glimpse of Pead's potential:
1 big play per game. + read OL, cuts on plant outside (extra step), + cutback vision. Runs to open field but not afraid of contact, lowers head/shoulder or stiff arm. Lines up in backfield & in slot. Adjusts to poor throws. Foundation is qkly changing directions, – exceptional explosion. Uses lateral hops in trash. Can explosive translate vs NFL talent? It did at SrBowl. Deceiving long spd. – adeq pass pro at SrBowl.
To translate: count on at least one big gainer per game. He does an excellent job of reading his blocks and has excellent cutback vision. The foundation of his style is his ability to change direction and explode, hopping laterally when the hole collapses to create space. Add in strong pass-catching ability, even on bad throws, and you have a low-cost multi-purpose threat.
Regardless of the kind of back you're looking for, there are plenty of fish in these middle rounds. Now we just have to convince the Rams to go fishing.