The Rams travel east, sitting pretty with a .500 record and looking to push ahead in the wins column for the first time since October 29, 2006. Like their last road trip to Detroit, they face a young team who is desperately trying to show improvements from last year's miserable season. A mirror image of how Rams opponents have felt, traveling into the Dome. And we've seen how dangerous that has been for these supposedly superior teams.
These two teams haven't faced each other often — their last meeting in September 2007 was a 24-3 loss in Tampa that was a harbinger of the awful times to come, and also provides a blueprint for failure that these 2010 Rams must avoid. Marc Bulger threw three interceptions to kill any positive momentum generated by Steven Jackson's 30 carries for 115 yards. Those turnovers led to three rushing touchdowns, two by the bruising Earnest Graham, one by Cadillac Williams. Those two mediocre backs combined with a surprisingly strong Michael Pittman for 177 yards on the ground, helping to play keepaway from the Rams' offense.
The Bucs' current running back rotation? Cadillac Williams, Earnest Graham, and a dangerously strong LeGarrette Blount. Is there another disappointing road loss brewing? Let's exchange some Q&A with Eric Schmidt of What the Bucs, to gauge his team's temperature.
Has Raheem Morris looked more comfortable in his second year? He was essentially thrown in the deep end and told to sink or swim last year, and barely kept his head above water it seemed. Do you think he can become the long-term answer in Tampa?
Raheem Morris has to accomplish something before he wins me over. I think he is too much of a players coach, he wants to become buddies with the players. Last season, he and several players were spotted out and about in the Bay area at several events, that's just not professional in my book. He does appear more comfortable this season and the team has had a touch of early season success but the schedule is about to take a turn for the more challenging, we'll have to see how he reacts.
The Rams' run defense has been a historic trouble spot, but the Bucs' backfield looks like an absolute mess. What's the Bucs' plan of attack on the ground?
Carnell Williams was an issue for me heading into this season. I love his devotion and passion along with the way he came back from two serious knee injuries, but he's a shell of the runner he was in his rookie season. Heading into the Cincinnati game, Raheem Morris said that Williams would see a decreased workload and Kareem Huggins along with LeGarrette Blount would see more carries. That didn't happen. Last week Blount wasn't even active against the Saints and Huggins is out for the season with an ACL injury. I want to see a heavy dose of LeGarrette Blount. I like his punishing running style and that is exactly what the young offense needs to take the load off Josh Freeman.
[Speaking of Blount's punishing running style, check out this monstrous run — and post-run shenanigans — from the Titans' training camp. At least this guy had his helmet on, unlike Byron Hout at Boise State]
It seems that the Bucs' defense has been in disarray since Monte Kiffin skipped town, followed by a huge purge of established veteran players like Derrick Brooks. Are there signs of progress? And which do they need more to get back to their level of dominance: coaching or talent?
Raheem Morris is now calling the defense, he took over that assignment late last season. The Buccaneers have added an infusion of young talent on the defensive side of the ball, 1st round pick DT Gerald McCoy along with 2nd round pick Brian Price. Price has battled injuries since training camp and McCoy has yet to make himself felt on the defensive line, but hopefully they will come around. And the Bucs have some young, fast and aggressive linebackers.
The secondary is a questionmark moving forward: CB Ronde Barber, the only holdover from the Super Bowl team is at the end of his career. Aqib Talib showed signs of moving towards becoming an elite corner last season, yet he has given up a touchdown pass in each game so far this season. The strength at Safety, Tanard Jackson violated league drug policy and found himself suspended for the season, idiot.
The Bucs defense is managing to pick up where it left off last season against the run — they can't stop it. Currently we're 31st against the run.
After a hot start, the Bucs have cooled down considerably. What's your outlook for their season, and how has that changed since week 1?
Oh, believe me after the Bucs started hot out of the gate, I had all kinds of readers leaving comments telling me I had no business writing about football, I know nothing, yada yada yada, Now after 6 weeks we see that Carolina and Cleveland (whom Tampa beat in weeks 1 and 2) have 1 win between them, and Cincinnati (who lost 24-21 to Tampa in Week 4) really isn't as good as advertised heading into this season. I predicted that the Bucs would finish the season 6-10. They MIGHT go 7-9, but no, I feel no reason to change my prediction.
Simply look at the Bucs schedule. After the Rams, Tampa has two road games against Arizona and Atlanta. Tampa does not travel well west of New Orleans in road games. They come home to play a very bad Carolina team. They travel to San Francisco. Say what you will about the Niners but the Bucs are 1-12 in San Francisco, the only game they won, 1980 24-23. Then they travel to Baltimore, not a snowballs chance there. Home against Atlanta, a trip to play Washington. Then home against Detroit and Seattle and then finish off the season in New Orleans in a game the Saints might need to qualify for the playoffs. So, yes. I stand by my 6-10 prediction.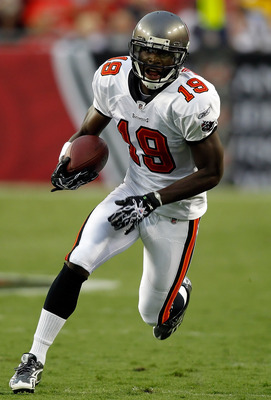 Which Buc do you see having the biggest fantasy day against the Rams?
Well, there aren't really a lot of fantasy options on the Bucs right now other than TE Kellen Winslow and WR Mike Williams. I am really going to have to go with Mike Williams. He has 23 receptions, 3 scores, 5 plays over 20 yards and is quickly becoming QB Josh Freeman's favorite target.
Your game prediction?
I realize that the Rams have not won a game on the road yet this season, but each week are playing with more confidence. These two teams are pretty equal except for the player which I think makes the biggest difference this weekend, RB Steven Jackson. The Bucs run defense is horrible, Jackson has a 130 yard, 2 touchdown day and the Rams win 24-16.