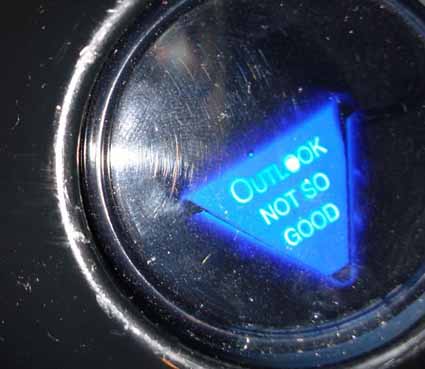 Sports Illustrated's NFL Preview hits the stands tomorrow, and Rams fans are not likely to be too happy when it does. Thanks to Ben Kaplan at SI, I got a sneak preview of their look at the NFC West. What does their magic 8 ball say for the Rams? Outlook not so good.
Senior NFL writer Jim Trotter provided the preview for the Rams and the entire NFC West. Trotter writes:
"With rookie Sam Bradford, the top pick in April's draft, expected to take over at quarterback at some point this year—if not right away—[Steven] Jackson will be counted on to carry even more of the load in St. Louis, which seems physically impossible considering that he's been carrying most of it already."
This philosophy — that the running game would have to take the focus of the defense away from the passer — was an obvious failure last season. Then, the Rams were trying to protect a fragile specimen in Marc Bulger, and they were attempting to take pressure off their young corps of wide receivers. But defenses found it easy to stack 8 and 9 in the box, force obvious passing downs and easy penalties, then pin their ears back and get after the QB. The result was a Pro Bowl year for Jackson, and a seat on the trainer's table for him and nearly everyone else.
Now the Rams find themselves with arguably the most fragile and precious commodity — the rookie franchise quarterback — and their workhorse a year older, and if anything a receiving corps even more dependent on its young players. And that doesn't bode well, says Trotter:
"No matter how ready Bradford is when he takes over, there isn't much for him to work with."
This thinking led to a prediction of a 3-13 finish for the Rams, good for a distant fourth place in a division that Peter King sees being otherwise quite close — he has the Seahawks (?), 49ers and Cardinals separated by a single game in the standings (but none finishing above .500).
However, I think there are significant reasons that Rams fans can differ with this outlook.
For one, it was obvious that the article's main content was written before the Rams' 36-point undressing of the Patriots defense. This offensive showing was the first time the Rams' true first-string offense all played together: Bradford, Jackson, a full complement of receivers, and a healthy starting offensive line. The results were eye-opening.
The play-calling morphed significantly, taking changes — and converting them — down field. The running game proved much more consistent on first and second down. And then there's Jackson's healthy 5-yard-per-carry average (admittedly, in limited work).
I reached out to Jim Trotter, to verify that the piece was written before this game, and to see if this performance had changed his perceptions at all.
SI_JimTrotter
@RamsHerd yes, was written beforehand. no, it doesn't change my opinion. in fact, loss of avery makes for even tougher season.
Avery was targeted 97 times last season, tops among Rams receivers, and his pure deep speed can't be replaced on the roster. But that doesn't mean that the offense is going to be severely crippled by his absence alone. The west coast offense isn't defined by what the passing game does on the fringes of the field — it's defined by how it dissects the middle.
For that reason, the most important receivers on the Rams' roster might be second-year man Danny Amendola and the Rams' complement of tight ends — including Michael Hoomanawanui, profiled in Peter King's most recent MMQB.
The Rams' tight ends were targeted more than 100 times combined last season, and that was with the stone-handed veteran Randy McMichael leading the way. Arguably the Rams top four options at TE in camp this year — including Billy Bajema, who may be on the chopping block — present better receiving options.
Ben_Kaplan
@RamsHerd It all starts w/the QB, but I worry about that o-line. Can they keep #Bradford upright? #Rams
I won't deny that this has been a worry, even with all the dollars spent on that line. But the results from the last two games — one sack total versus Cleveland and New England, in a full game's worth of work — suggest that it's not a lost cause yet.
One of the maxims of Football Outsiders' analysis is that "the offensive line doesn't get enough credit in the running game; the quarterback doesn't get enough blame for taking sacks." Last year, all three Rams QBs struggled with their decision making despite having adequate time on many snaps. Conversely, Bradford has shown a preternatural ability to make a quick decision, avoiding pressure and dumping passes incomplete when necessary. His vaunted completion percentage may drop as a result, but he isn't going to stare down a single pattern and wind up flat on his back as a result.
And of course, neither the article nor this reaction piece have mentioned the team's hidden wild-card — the very likely possibility of an improved defense. Of course, the Rams would have to give up 100 fewer points than last year to be considered "average" in that respect. But again, we saw against New England how the offense's ability to keep possessions alive gave the defense fresh legs — the Rams' first-stringers forced the Pats' first-string offense into three-and-outs on nearly every drive.
Of course, this isn't entirely fair. There are real reasons to be cautious about predicting a high win total for the Rams. And all season long, we might be saying "if only they played like they did against the Patriots." The Rams are likely to be up and down all season, as they grow into a winning team. I just happen to think that a good bit more than three wins are not only possible, but likely.