The Rams have taken a good idea — making training camp practices open to the public — and made it better, by opening the gates for a full 29 practice sessions. [Here's a link to the Rams' training camp schedule.] Players are going to be getting plenty of fan interaction after the morning sessions, the first of which starts next Thursday. But apparently, receiver Brandon Gibson couldn't wait that long.
Gibson got onto Twitter this Thursday morning and opened the door wide to all his fans and followers:
BGibson04
To new followers & current ones I'll b answering ur ?'s all day. If you got any ask away…Q & A all day.
And he wasn't kidding, tweeting back and forth well into the evening in a free-flowing exchange. Gibson joins new safety Kevin Payne, who has been actively posting on TurfShowTimes, and several other players who have been active on Twitter all summer, such as Cliff Ryan, Dominic Douglas, Chris Ogbonnaya, Chris Long, Keenan Burton … heck, just follow the whole damn list at @RamsHerd/rams-players.
With BGib's permission, then, here is a recap of some of the top questions and answers from this epic session. (Note: Questions highlighted with a
Rams icon come from members of the @RamsHerd/rams-fans list on Twitter, now 100+ strong and growing.) Enjoy!
---
Starting out personal…
@FlyGuyTMasc: how many gfs have u had?
Gibson: lol 4
---
@Snimri85: Have you cought any passes from Bradford yet?
Gibson: yessir he's a big talent
---
@FlyGuyTMasc: who's the hottest celeb (according to u)?
Gibson: Paula Patton Halle berry Sarah shahi the list could go on 4eva lol
---
Past Glory
@TiltingRight: What's your favorite memory as a Coug player? Most painful loss?
Gibson: 07 apple cup, & coach doba being fired
RH: The "Apple Cup" is the name given to the annual game between Washington and Washington State … and in 2007, Brandon Gibson caught the game-winning touchdown in an electric 42-35 victory for the WSU Cougars, beating the heralded freshman Jake Locker. Gibson was the game's leading receiver with 137 yards and 2 TDs.
However, that dramatic victory wasn't enough to save the job of the Cougars' coach, Bill Doba, who was fired the following week after the team finished out of the bowls for a fourth consecutive season. It's ironic that, for Gibson, his greatest victory and saddest loss are separated by mere hours.
---
@ucancallme_sam: favorite memory at rogers?
Gibson: High school bball. I had so much fun
---
The Twitterverse gets hungry
@TiltingRight: Favorite place to eat in StL?
Gibson: not sure. Haven't bn to that many spots…I usually eat at the house
---
@FlyGuyTMasc: fav place 2 eat back in seattle
Gibson: charlies off broadway. U can eat everything on the menu
---
@PitViper83: What's your dream ride?
Gibson: Aston Martin cuz of James Bond. Or the revention
---
@PitViper83: Okay, next question: What are you currently driving?
Gibson: Denali
---
@PitViper83: Rims?
Gibson: str8 stock
---
Finally, some questions about sports!
@Snimri85: What are your favorite sports to watch?
Gibson: anything but baseball & golf. Love bball soccer tennis
@RamsHerd
: Who do you pattern your game after? Do you have a WR mentor?
Gibson: Eric Metcalf, Greg Jennings, steve smith(NY)
RH: It's an interesting group of players, starting with Metcalf, an electric player with Washington roots who was a little undersized, but excelled at making yards after the catch. Jennings is more of a polished deep threat, and Smith had an emergent year last season with the Giants… but could be in some trouble to start this season. Each of these players relies on positioning, sharp cuts, and quick feet more than blazing speed or sheer physicality.
---
@Mtrible: what did you think of kolb during your time in Philly?
Gibson: he can play, he can the show, gunslinger
RH: Thinking he meant to type "ran the show"? stupid tiny cell phone keyboards…
---
@Snimri85: you dont even like Watchin tiger?
Gibson: on Sundays when he wears red haha
---
@Snimri85: Haha thats true. Whos your favorite Nba team?
Gibson: blazers & thunders
---
@GreetingsADM: How were the fans at an Eagle's training camp?
Gibson: they roll deep! Good fans a lil harsh but love there teams
---
@21Bird: how far are u on the depth chart?
Gibson: not sure.
---
@21Bird: I really think your the best wr we got u didn't go down easy and u made tough catches
Gibson: gotta earn the title
RH: True enough. In particular, Gibson is going to face stiff competition in camp from the newly drafted Mardy Gilyard, who has a similar skillset and comfort zone playing from the slot. Gilyard also brings premier return ability, which pits him head-to-head against Danny Amendola. I think it's possible that only two of these three receivers makes the 53-man roster, and hopefully the competition brings out the best in each of them.
One thing's for certain with all this emerging young receiver talent… as fellow Rams watcher Ron Clements once said, I wouldn't want to be the guy having to make the cuts from this group.
---
@HamzaAbdullah41: Who do you think is the best corner in the NFL?
Gibson: revis, cromartie(jets), 21 from Oakland, sante in no order
---
Having some fun
@TiltingRight: better shooter… You or @reggi3moore?
Gibson: me until he shoots me out the gym haha
RH: Reggie Moore plays basketball for WSU
---
@reggi3moore: @TiltingRight ME.. @Bgibson04 is too buff to shoot. I smacced him in Madden to with his own team. #ithappens
Gibson: haha–fibbbss
---
@BeemerJules: What's your idea of a good date?
Gibson: Dinner & a movie for starters…from there u gotta get creative.
---
@21bird: @Bgibson04 u play madden online if so up that gamertag so I can teach u a gun lesson
Gibson: ps3. Gamertag: bgibson04
---
@Snimri85: last time you played in hoopfest?
Gibson: never played , I did hoop it up when I was lil
---
@BeemerJules: What's your worst injury? (So much for the workout!)
Gibson: I kno right. Ummm heel bruise. I couldn't walk
---

@Snimri85: ever met any celebrities?
Gibson: Like 2. Forgot there names lololol
---
@TurfShowTimes: Bold predictions for 2010?
Gibson: we compete for the NFC west =]
---
@GreetingsADM: @Bgibson04 How do you feel about drinking an ochocinco (cranberry and red bull)?
Gibson: shirley temple if I step out lol
---
@CoachTruck: do u follow or care what ur madden rateings are
Gibson: nah not really. coo that I'm in a video game tho.
---
Scouting himself and his teammates
@TLangland: Out of any quarterback you have played with; who throws the hardest ball?
Gibson: McNabb
---
@21bird: is the kid Jerome Murphy as tough as they say? I got high hopes for that dude!
Gibson: he's gunna help a lot
---
@21bird: are u looking to change your number this year? What's your fav # and why?
Gibson: 11. 5 is my favorite. Always liked it
RH: Gibson's #11 had been swapped around a couple of times already, with Laurent Robinson trading into it during training camp… I can't recall who with, but I believe LRob was wearing #19 before. Robinson is listed as #19 again in the latest Rams Roster, which leaves Gibson secure in his double-ones.
---
@sth85: So when Bradford signs his deal are you going to ask him for a loan?
Gibson: no sir
---
@Snimri85: favorite Nfl player.. Currently playing.
Gibson: Jason avant
RH: Another interesting choice. While DeSean Jackson grabs all the headlines among Philly receivers, Avant does the dirty work. The fifth-year player saw a lot of key third-down targets, and successfully moved the chains with a 16.7-yard-per-catch average on those third down throws.
---
@21bird: hey what Ram do u think will surprise this year besides yourself?
Gibson: @ChrisOgbonnaya
---
@GreetingsADM: Of the Rams WR this year, Fastest? Best Route Runner? Toughest?
Gibson: fastest Donnie. Routes r a toss u. Danny is the toughest
---
@BeemerJules: Do you see the Cougs making a comeback this year? (No BS.)
Gibson: yessss
---
@GreetingsADM: What are the chances the Amendola gets on twitter? We want the whole crew!
Gibson: he don't call me back lol dour it
---
@craigthompson11: They just showed Devaney and Demoff here at Cards game. Anything u want me to tell them?
Gibson: lol nahhh
---
@Disease26: what are your individual goals for the upcoming season?
Gibson: b the most consistent WR on the team
---
@CoachTruck: have u ever cut so hard u lost a toenail? Does that happen
Gibson: hahaha don't think so
---
@eagleSBound: Who was ur Favorite Team Growing Up?
Gibson: Seahawks, ravens, eagles
---
@eagleSBound: @bgibson04 Will you go over 1,000 receiving yards this season?
Gibson: tryna 2!
---
After a brief intermission, Q&A resumes…
@Snimri85: favorite movie?
Gibson: dark knight, he got game & prime.
---
By this point, even Chris Long decides to get in on the act. Whatever it takes to get to know your teammates, right?
@CL7TWO
: what's your favorite color , THANKS!
Gibson: C-long blue!!!
---
@exblackbelt: Who's better, Rams fans or Eagles fans?
Gibson: both!
---
@KLEWSportsGuy: Do you remember your first television interview at Washington State?
Gibson: no idea. Prolly stuttered!
---
TRUTH!
@FlyGuyTMasc: @bgibson04 what would happen if u tried to tackle steven jackson?
Gibson: lol death
---
The question where I show what an idiot I am
@RamsHerd: Have you been any place hotter than STL in august?
Gibson: nvr bn to Stl in august so well c lol
RH: Naturally when I asked this, I forgot that he spent training camp with the Eagles last season. #facepalm. I'll blame my brain loss on the damn heat.
---
Hitting the home stretch
@GreetingsADM: Do you prefer Left, Right, slot, or fourth?
Gibson: any of them (jack of all trades)
---
@BeemerJules: Boxers or briefs? LOL
Gibson: haha boxer briefs!!!
---
@Hawk_56: is Bobby Brown the king of R&B?
Gibson: yes & no. He needed help…he could dance tho
---
@Snimri85: who were your best friends on the eagles?
Gibson: Amendola! Lol
---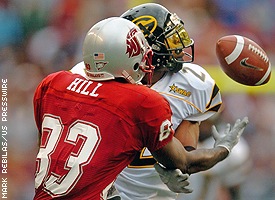 @j_leckband: who's gonna have more catches this year, you or Jason hill? #gocougs
Gibson: that's my guy. Taught me a lot. Him!!!
RH: Hill is in his fourth year in the league now, having been drafted by the 49ers as a 3rd round pick out of Washington State. As a Cougar, he broke the school record for touchdown catches with 32 in his career. He only caught nine balls last season though, and will definitely be looking to prove himself in Niners' camp this summer. Crabtree and Vernon Davis are the clear top dogs in the receiving game, but the rest should be wide open.
---
@21bird: hardest hit u ever took whether practice are game?
Gibson: Rey mauluaga USC 05 on a k return.(demaundy woolridge didn't block)
---
@eagleSBound: Who is the KING of STL?
Gibson: Albert pujols
---
@Snimri85: favorite person to tweet?
Gibson: any & everybody lol
---
RH: And with that, this epic day-long open interview came to an end. Many thanks to Brandon for allowing us to repost this exchange here. It makes a great read for Rams fans, especially those lucky enough to come down to the training camp practices.