Since the early days after the NFL Combine, the Rams' first round pick of Sam Bradford was essentially a given, despite lots of media-generated wind casting doubt on the pick. The intervening weeks drained the debate over his worth at the #1 spot, so that his selection was essentially a non-event. In fact, after Suh went to the Lions, and McCoy went to the Bucs, several draft commentators remarked: "Now the real draft begins." And the flurry of trades, picks, reaches and falls of the next 40 hours had us all dizzy.
But when the pieces of the Rams' draft finally settled, three picks are generating the most buzz: OT Rodger Saffold in the 2nd round, WR Mardy Gilyard in the 4th, and DE George Selvie here in the 7th.
ProFootballTalk
Rams may have gotten a steal in George Selvie
http://is.gd/bGAwa
#NFL
But on a Rams roster that is heavily comprised of late-round finds, all three of these players could get their chances to contribute.
Marquis Johnson (Alabama): 6'0″ 180 lbs
DB George Selvie (USF):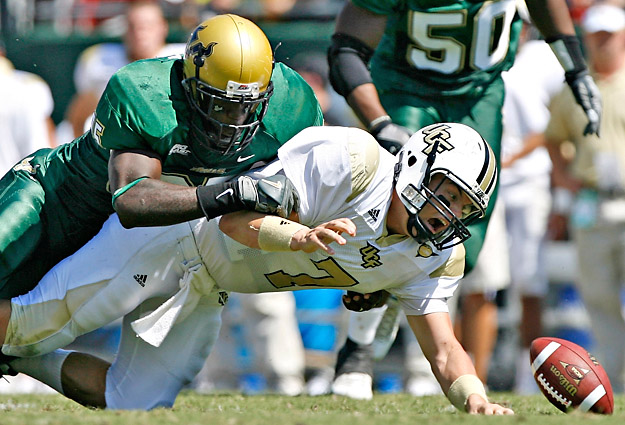 LB Joshua Hull (Penn State): 6'2″ 237 lbs
Quick Reactions
Both Johnson and Hull appear to be good camp players with the potential — like the undrafted Quincy Butler last year, and "Mr Irrelevant" David Vobora the year before — to earn a nice quantity of playing time.
jhesfellerIV
Marquis Johnson improved more than anyone else this year, but picked ahead of Colin Peek? Interesting.
"If I had a choice to pick, I would have picked St. Louis or the Patriots, just because of the love they showed me at pro day," Johnson said. "The scouts will tell you a lot. But I mean, it was the truth. I like to feel wanted, and I'm happy I'm going to a place where I feel wanted."
Johnson finished his senior season at Alabama with 17 pass break-ups, tops on the team. In many cases, that was the product of opposing teams repeatedly throwing his direction and avoiding first-round draft pick Kareem Jackson or second-rounder Javier Arenas.
— AL.com: "Marquis Johnson: Redemption was the key to my year"
The Patriots are notable in their interest, as they also like big physical corners with the instincts to play the ball. Johnson could wind up being a replacement for Jonathan Wade, a skilled player who just could not mesh with the Rams' coaching staff.
Selvie, meanwhile, could have an impact immediately on special teams, and as a situational pass-rusher, much as Leonard Little did early in his career.
bucco40
@RamsHerd
saw him play many games at RayJay, his sophmore year was the best, then teams doubled him, a bit undersized to play DE though
Having a guy that teams are forced to pay attention to can make a huge difference for the guy on the other side of the line, as it did for USF teammate Jason Pierre-Paul… hopefully that bodes well for Chris Long's ability to increase his sack totals.
Penn State's Josh Hull profiles as a super-Vobora of sorts: like Vobora, he led his team in tackles after joining the team as a walk-on, and like Vobora there are questions about his ability to translate his game to the pros. Hull is just a bit bigger, faster, and comes from a D-I conference of higher renown.
Josh Hull has a great size/speed combination and tested out very well at the combine with great times in the short shuttle, 3-cone drill, and a solid vertical leap. He has good instincts and he will take good angles to cut off the ball carrier in pursuit. Hull is a strong tackler that has the ability to play short area zones in pass coverage well and he can dissect plays before they happen. He has short arms and cannot cover man-to-man deep down the field. His movements are very stiff and he is not a quality blitzer.
— RookieDraft.com: "Josh Hull Scouting Report"
While he will be hard pressed to crack the Rams' lineup playing the same position as James Laurinaitis, he may transition over into the strong side and spell the elder signee Na'il Diggs.