The mighty 49ers have one road win in seven tries — the juggernaut Rams have zero home wins in seven tries. Kicking off today: the battle of the Easily Movable Objects versus the Highly Resistible Force! (Plus an unofficial Isaac Bruce tribute.)
Expected to take a big step forward this season, the Niners have instead taken steps in all sorts of directions, weaving from good to bad like a drunken sailor on shore leave. The Rams, in the meantime, are the unfortunate working girls in this metaphor, stuck in one place waiting for bad things to happen to them — over and over and over again.
Good: They remove the "interim" tag from Mike Singletary's Head Coach position.
Bad: They embark on an Ishtar-like wandering quest for an offensive coordinator, getting turned down by Scott Linehan along the way. (They got former Jets OC Jimmy Raye, which has turned out a little better than bad.)
Good: They start off 3-1, including a 35-0 pasting of the Rams, in which we shot ourselves in the foot so many times and ways as to leave nothing more than bloody stumps.
Bad: They finally come to terms with #1 pick Michael Crabtree, then discover that he isn't compatible with their starting quarterback, Shaun Hill. In the process of changing quarterbacks, losing Frank Gore to injury, and changing their entire offensive system to an Alex-Smith-friendlier spread offense, they lose four straight, and five of six, effectively removing them from the playoff picture.
Good: Smith finally has a series of "breakthrough" games, playing well in close losses to the Packers and Seahawks, and beating the Jaguars.
Bad: The 49ers utterly and completely forget to use Frank Gore in the process. You know Frank Gore, the player that was supposed to be the offensive centerpiece of the Niners? The guy who was supposed to get the ball 60% of the time? Is Alex Smith only compatible with one player at a time?
Even More Bad: Smith then goes into a tailspin, playing sub-Boller-esque football against the talented secondaries in Arizona and Philadelphia. Niners lose both, and are officially eliminated from the playoffs.
Good: Niners come back strong against Detroit, and finish the schedule against the Rams, who they've dominated.
All this brings up the ultimate question facing this San Francisco franchise: Is Alex Smith the answer? And can the Rams take advantage of the questions surrounding him?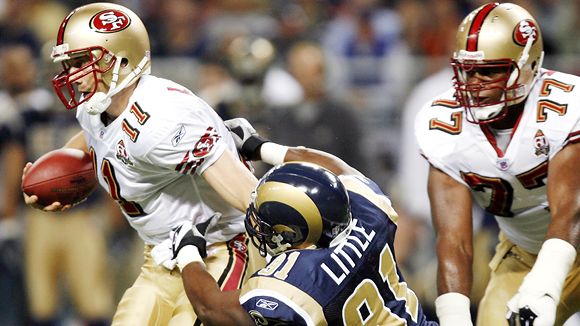 The San Francisco Chronicle offers a familiar refrain, suggesting that he is on the cusp of a breakthrough, and that the Niners owe him "one more year" (again) to find out. They also offer a little quarterback psychology for the fans:
"I think with (Smith), he's very anal, extremely intelligent and when you have that kind of intellect, you tend to be somewhat analytical and detail and structure is real important to that type of individual," said Raye, who might that type of individual himself. "
"Structure" as in "Quit yanking me in and out of the starter job, and quit bringing in other guys to compete with me?" Or "structure" as in "Boo hoo, why won't the other team just line up in a regular defense, like they used to in the Mountain West, and quit trying to fool me and blitz me all the time?"
Other analysts (and many fans) offer a much different take: that Smith categorically is not the answer, and the team must move on if they are going to take the next step forward.
ProFootbalFocus
The 49ers are very close to being a very good team. The problem is the biggest thing holding that back is the toughest position to find.
RamsHerd
@ProFootbalFocus Talking about 49ers o-line? or QB?
ProFootbalFocus
@RamsHerd QB – Their line is good enough to not hold them back, though still far from elite.
If we accept that Smith is a weakness, can the Rams take advantage in this game? Firstly, they will have to stop Gore, who you would think would get a healthy dose of carries in this game. Secondly, the Rams' combination of pass rush and secondary will have to play better than they have for most of the season.
If you look at the NFL-wide cornerback rankings at ProFootballFocus.com, at the very bottom of the list you will find two all-too familiar names: Ron Bartell and Justin King. (You'll also find Jonathan Wade right in the middle — if only he could get out of Spag's doghouse.)
RamsHerd
@profootbalfocus Just saw Bartell and King at the very bottom of your list of NFL corners. How much would a pass rush help?
ProFootbalFocus
@RamsHerd Pass rush will always help out a corner. The less time he has to cover for the less he can be beaten
An effective Chris Long paired with a new proud papa James Hall (playing perhaps his last game in the pros) will have to give their all and then some, and Bartell and King will have to raise their game to at least a "Philip Buchanon" level if they want to shut down Smith and have a chance at giving the home fans a season-ending upset win.
Here's hoping they can. We need something to keep us warm during the long winter between now and the draft.