Aldon Smith, DE, Missouri
The Rams will find themselves in a very tough value spot if the draft shakes out the way it has in the 2011 Bloguin Mock Draft. Both elite receivers are off the board and none of the falling elite defensive prospects (Fairley, Bowers, Quinn in various mocks) are dropping to pick 14. Sitting on top of a huge depth of second-tier defensive line talent, getting value for the pick is the first priority.
In an ideal world, the Rams would trade down here, but since trades aren't allowed, I'm going to go with the player with the highest ceiling. That player is redshirt sophomore Missouri defensive end Aldon Smith. I can only hope that Spagnuolo's coaching and further growth into his young frame turns him into the next Justin Tuck or Demarcus Ware.
However, this was far from a slam-dunk decision. We held a lively Twitter round table this morning, opening the debate wide for any and all suggestions, seeking input from Rams fans and scouts alike.
Read on to see how that debate took form.
MichaelBittner
@RamsHerd Have you heard anything about interest in Ingram?
I have no inside sources to the Rams' war room, but looking at the evolution of our roster, and of our offense under Josh McDaniels, I just don't think Billy Devaney will be tempted to go running back at this choice.
Of course, McDaniels went against that grain of thinking in his first draft with the Broncos, selecting Knowshon Moreno — another SEC back with an excellent pedigree, but one who has fizzled in the pros behind an offensive line that was no longer built for the power run game that the Broncos were once famous for. With similar issues in our interior, I feel pretty confident the Rams will go another direction here.
LakeRaMan
@RamsHerd gotta be the DT from Illinois Luiget
3-technique defensive tackle is definitely a more immediate need, particularly on the right side next to James Hall's spot, as our own defensive line analysis shows. Corey Liuget has been a very popular pick for that reason.
However, scouting reports are a mix of "solid player" to "the next Gerald McCoy." While no one is getting Ndamukong Suh comparisons in this draft class, it seems Gerald McCoy comparisons abound. I'm afraid that I lean toward the "solid player camp." He has the production in college, but I just don't see a high-enough ceiling to justify a top-15 pick.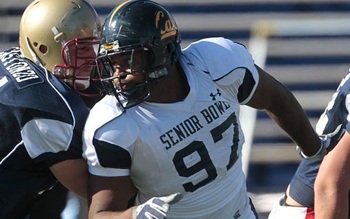 OptimumScouting
@RamsHerd Who you debating for the pick? Think DE has to be the option. My vote is Jordan though, Top 10 on my board
Given that Erik Galko from Optimum Scouting is grading our draft picks, I might be tempting fate by going away from his choice. I will say that Cameron Jordan's ability to disrupt from the DE or DT spot made him a very intriguing option, and was almost my pick here. He was often the best player on the field against some very good competition in the Senior Bowl, personally helping to knock down the draft status of several well-regarded offensive linemen.
However, the Rams' history of drafting "tweener" players for their defensive line has not been a good one. This quote from the most recent Jim Thomas chat is revealing:
The only thing I'll share is that there may be some concern that Cameron Jordan is a "rich man's" Victor Adeyanju. In other words a better athlete than Adeyanju, but still not a great pass rusher.
Other Rams fans appeared similarly scarred by past experience. @RobWilliams71 for one worries that in Jordan we would be getting "the next Adam Carriker." And as new contributor Brennan Smith points out, Carriker may very well be the worst Rams draft pick of the past five years. While I doubt Jordan would be a bust on that level, I do have concerns that he would be miscast in the Rams' 4-3 front.
PFF_Tyson
@RamsHerd if you can't trade down, I say follow the trend of @CFD22 and D'Marco Farr. Draft Aldon Smith and move him around DE/OLB.
Young Aldon was the most popular suggestion, though I can't say this was a popularity contest. There are notable risks with selecting Aldon Smith: his youth and injury-hampered sophomore year, as well as the opportunity cost of not selecting a defensive tackle.
However, I believe that Billy Devaney sees this as a still-young team, and wants to install building blocks that can all grow up together. And as the decision to draft OT Jason Smith with the second overall pick in 2009 shows, the Rams aren't afraid to draft on potential, if they think that potential is sky-high.